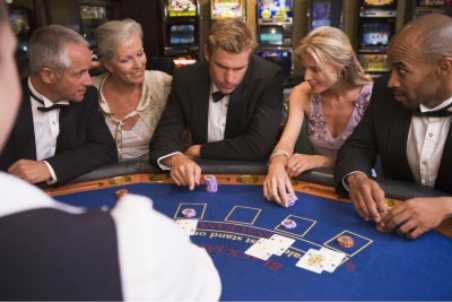 Blackjack, perhaps more than any other game, is associated with the mystique and glamour of casino gambling. The rules are simple enough. However, new players are often a little confused when it comes to implementing a even a simple blackjack strategy. Soon enough the 'light comes on' and it doesn't take long for them to play well at a basic level.
Through the years, as players became more familiar with the game, they found that they had a fighting chance to win by using a blackjack strategy. Casinos combated that by incorporating a variety of options that made playing a strategy trickier and, at the same time, more interesting.
This article explains a simple blackjack strategy so that a new player can achieve an entry level of playing efficiency. It is not what is commonly referred to as Basic Strategy (also called Correct Strategy),  which is more complicated.
The Object Of The Game
If you ask even an experienced Blackjack player what the object of the game is, you might be misinformed. Many people would say that the object of the game is to get as close to 21 without going over 21. That's actually wrong.  The object of the game is to beat the dealer – without going over 21. And secondly, the object is to either beat the dealer or win from their bust (going over 21).
An Overview
Casino Blackjack is played using one to eight decks of cards with each deck consisting of 52 cards.
The cards from 2 to 10 are counted according to their face value and the face cards of Jack, Queen and King are counted as 10. The Ace can be counted as either 1 or 11.
The dealer deals hands consisting of two cards. The value of a hand is found by adding the individual points of each card to determine the sum total. At the deal, the highest hand available is an Ace with a 10 point card. That's Blackjack!
If, during play, the total sum of your hand exceeds 21 points, you 'bust' and you lose. You also lose if the dealer has a hand that is closer to 21 than yours.
Your two cards are dealt down. The dealer's hand is dealt one card down (the 'hole card') and the other face 'up'. In general, a blackjack strategy is based on the decisions made based on the cards in your hand as compared to the up card of the dealer. Using this simple blackjack strategy from gambling consultant, Mike Shackleford, you'll have the following options:
Hit – ask for another card from the dealer
Stand – Stay with the hand that you have
Double Down – Double your bet
Split – Split a pair into two hands
Don't Split – Stay with one hand of a pair
Always do the following:
Hit if you have 8 or less.
Stand on a hard 17 or more.
Hit on if you have soft 15 or less.
Stand on soft 19 or more.
With 10 or 11, double if you have more than the dealer's up card (treating a dealer ace as 11 points), otherwise hit.
Surrender 16 against 10.
Split eights and aces.
If you hand does not fit one of the above "always" rules, and the dealer shows a 2 to 6 up, then play as follows:
Double on 9.
Stand on hard 12 to 16
Double soft 16 to 18.
Also split 2's, 3's, 6's, 7's, and 9's.
Finally, if your hand does not fit one of the above "always" rules, and the dealer has a 7 to A up, then simply hit.