DOS AND DON'TS
Here are some important video poker tips to help optimize your video poker playing experience and your video poker income. There's a lot to playing the game properly but this overview will serve to give you more of an understanding of the game than the average player.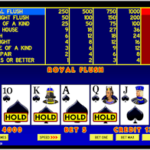 DO learn about and Shop the Paytable
Video poker is unique among casino games because it is the ONLY game where the machine (the casino) actually tells you the possible returns of playing the game. That's because the exact theoretical payback can be determined by reading the paytable. When you learn to recognize the best returns of the various games, you'll get the most bang out of your gambling bucks. The paytable is prominently displayed on the game's glass or in the game's help screens. Once you learn to identify the best paytable for your favorite game the next step is to practice. Chief among video poker tips is that each game and paytable has its own strategy. Practice your favorite games at home until you're ready to have a profitable trip to your favorite local casino, or even VEGAS!
DO Bet Max Coins
In order to get the most money back, always bet the maximum amount of coins (up to 5 coins). It is only at 5 coins bet that your Royal Flush and other jackpots will pay you the 'bonused' hands. That means you can get a top dollar return. And isn't winning top dollar what we all want? If you can't afford a max bet at a specific denomination, then find a lower denomination machine and play it at  the max bet (5 coins). For example, DO NOT play a dollar game, one coin at a time. Go and play a quarter game at $1.25 cents per time. You'll make more money, play longer and earn more comps.
DON'T play over your head
Learn to set a budget for your video poker playing session. It's time to leave when you've met it. Smart gamblers set a budget for the amount that you win too. Leave when you meet that. Discipline is THE key to a common sense approach to gaming. Two video poker tips to remeber are DO NOT CHASE THE MONEY and DO NOT DOUBLE UP TO CATCH UP. These are two sure-fire ways of going in the hole. And if you believe gambling is a problem for you, a friend or family member, please contact National Council on Problem Gambling (www.ncpgambling.org)
DO Watch your alcohol intake
Drinkers and even tipsy people often make bad decisions. Since winning at video poker requires skill and concentration it's not a good idea to mix alcohol and video poker. That's because inebriated players often make strategy mistakes or just plain miss card combinations they should keep. Serious video poker players who want to fully exploit their casino visit don't get out-of-hand with their drinking. Finally, one's willpower is lessened by alcohol and you might find yourself playing more than you should, or more than you planned for. Play to your budget and do it soberly.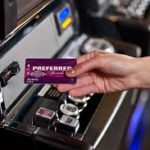 DO Sign up for the slot club
Don't even think twice about this one. It's a must. Why? Well, the most obvious reason is that you get "complimentary" points for your play which can be used for comps and sometimes you just get offers in the mail. You won't without a card. Another very important reason is when you get taxable winnings, which are any jackpots in excess of $1,199.00. The casino will keep some records for you so you know what to report to the IRS and your win/loss. Remember, they can only tell you about your play while using a player tracking card.
DO Learn how to play your favorite games
Other forms of casino gambling rely strictly on luck. Not so with video poker. So you are ahead of the curve because you've already picked a game where the strategy for winning and getting the most for your gambling dollar, is well known. Not only playing with a strategy known to payoff, but video poker tips and strategies are easily available. There are books, strategy cards and actual courses taught by pros like Bob Dancer and great software to use and learn at home on your computer. Practice makes perfect, or at least much better. You practice for softball, for bowling, for most leisure activities… why not video poker? This game, like blackjack, when you understand and play with the right rules, can be beaten.
DON'T play somewhere the buttons are sticky or don't work
One sure-fire way to have a really crummy, unpleasant session is to play a machine where the buttons don't work. When irritated or distracted, you won't play perfectly and won't make as much money as you would playing somewhere else. Don't even play even if it is the only available machine. You will miss holding the right cards, get frustrated and likely not enjoy your session. A better working machine will be available soon.
DON'T play next to a loud or bothersome drunk
Not only will they distract you from playing perfectly, they'll ruin your fun. Don't do it! Walk away or come back later
Now that you have a few video poker tips, are you ready to get started? Learn, practice and play real video poker today at the Video Poker Page for free. There you will find real video poker games, just like what you'll you'll see in the casino. But you'll play without the risk of gambling. It's just for learning, practicing and fun. You'll play with free credits and your credits will be replenished for free if you run out. Plus, Gold members can chat with other players and enjoy special benefits. Signup now for free.