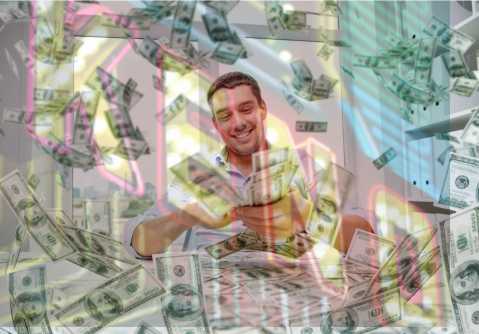 How A Four Card Keno 7 Spot Changed My Gambling Life
I never intended on becoming the Four Card Keno strategy player that I am today. Keno wasn't even my casino gambling game of choice.  Yet I found myself creating a strategy that would help thousands of Keno players win more often, play longer and win bigger jackpots. And then I developed a system of Keno Smart Charts to make it easy for anybody to do it. So this is my story. It's sort of a 'rags to riches' story, but not quite. It is my true story of how a semi-professional video poker player turned into a killer keno player quite by accident.
Just about everything I had read about gambling told me that


Video Poker and Blackjack were the only games that would give me a fighting chance in the casino. And, often in the same article, I would read that Keno had terrible odds. So I stayed away from Keno and became a semi-professional video poker player.
Becoming a good Video Poker player isn't easy. I had to read a couple of books, study the different games, buy the best training software and practice diligently. My wife learned right along with me. Within a few months we were living the high life in Laughlin and Las Vegas Nevada as comped players. I'm talking about hotel limos picking us up at the airport, comped hotel suites, free dining. Just like what you see on the cable travel shows. We couldn't believe it.
Best of all, we would usually break even or win. Of course we had occasional losing trips as well. But that's another story for another time.
For several years we drove from Phoenix to Laughlin NV (our favorite place ) on the weekends, totally comped. Then, as traveling became more difficult, we found ourselves frequently visiting local Indian casinos and playing 'short' video poker machines. 'Short' being games that paid out far less than what we played in Laughlin.  So we lost a lot more than we won. We justified it by saying it was the cost of having a good time.
While that may be a way to rationalize a night out, still,  may I say, LOSING SUCKS! That's why I became intrigued when I saw somebody win one of those huge Keno jackpots. I got the "Gee, I wish that was me" feeling.
Even though Keno is suppose to be such a bad game, the video poker that we were playing was also bad. By bad I mean bad odds. So I decided to compare the pay tables of the short video poker games to those of the Four Card Keno game that was available on the same machine. I used my phone to take pictures of the different payout screens so I could do the calculations later at home.
What I discovered was great news to me. I could totally justify playing Keno – and going for the big jackpots.
What really clinched it for me was realizing that catching a 7 spot in Four Card Keno had about the same odds as getting a Royal Flush in video poker. And the kicker was that a 7 spot paid $7,000 for my dollar bet while the Royal only paid a thousand (for 1 $1.25 bet).  So I was able to totally rationalize playing the so-called 'worst game in the house', Keno – and specifically, Four Card Keno.
Seeking Four Card Keno Success

It wasn't long before I began to think of ways to play Four Card Keno more effectively. After all, I was a trained video poker player so I just knew that there had to be a better and a worse way to play. Everything is like that – even slot machines. So for the the longest time I found myself  trying one thing and then another. Maybe this pattern, maybe that row – maybe these numbers – maybe the ones that I just played. And once in awhile I would hit something. And all the time I kept thinking there was a better way – even though everything that I read said that Four Card Keno was just a game of luck.

Then, one day I hit a seven spot on two cards. What a nice jackpot that was. I didn't realize it at that moment (I was so excited) but that win was going to take my Four Card Keno game to the next level. I wrote down the numbers and spent the next few days thinking about how it happened and how I could duplicate it. Was it just dumb luck like the experts said? Obviously hitting on two cards was due to having some common numbers. But I had done that before.
What was different with these particular numbers? Then I payed more attention to the other two cards from that winning game. Those two cards were winners too – just not as big. That simple observation lead me to a system of playing Four Card Keno that changed everything for me. I got on the computer and ran the calculations over and over. I was skeptical but my heart was beating fast because I just knew I was onto something big. After hours of calculations and experimenting with different spots, I proved that it was possible to play Four Card Keno 8 times more efficiently and, best of all, win bigger jackpots much more often.
Keno Math Made Easy
My excitement was soon dampened because doing the math for different spots that I might want to play wasn't really practical. Especially on the larger spots. It took too much time away from actually playing the game. I had to come up with an easier way.
Again I went to work. I started working with spreadsheets thinking that they could make the process easier. But it was still a hassle. Then one day I was testing a spreadsheet for various five spot numbers and I saw a pattern that was common between them. I couldn't believe it at first. Was it possible that there was a simple pattern for every Four Card Keno spot that would trial and error setup and any math? The answer was a resounding YES! I had stumbled upon a simple way to strategically balance any numbers across all Four Card Keno cards.  A Now anybody can do it!